Wood Burning Fireplace Inserts | Wood Inserts | Wood Fireplace Inserts
We provide wood fireplace inserts for residents in Jackson CA, and the surrounding towns and communities of Fiddletown, Martell, River Pines, Lockeford, Herald, Rail Road Flats, West Point, Sutter Creek, and all of Amador and Calaveras Counties.
Fireplace inserts operate much like free-standing wood stoves when compared to function and performance. The major difference is that wood inserts are designed to be installed directly the firebox & fireplace opening of an existing fireplace. A wood insert can be installed in either a traditional masonry unit or a zero-clearance unit to help increase heat output and your heat efficiency. Inserts sit either partially or completely inside the fireplace and are engineered with a closed-combustion system and heavy duty outer shell that delivers heat effectively into your living space while minimizing heat loss out of the chimney.  High powered fans capture the heat within the shell and blow it into your home, warming the surrounding air quickly and efficiently. Surround panels cover the fireplace opening, and a stainless steel liner extends to the top of the chimney to improve the draft and protect the old chimney.
DID YOU KNOW?
A wood insert reduces the cold drafts created by an open fireplace because of the engineered burn system.
When choosing a wood burning fireplace insert, there are a few things you will need to consider. First, decide how much of your home you want to heat. There are smaller units that will effectively warm your busiest living space, and there are some high performance inserts that can heat your entire house! Also, you will have to determine what size inserts will fit into your fireplace. If you have a traditional masonry fireplace, which is built completely of brick, stone, and other masonry products then you can look at any wood insert option.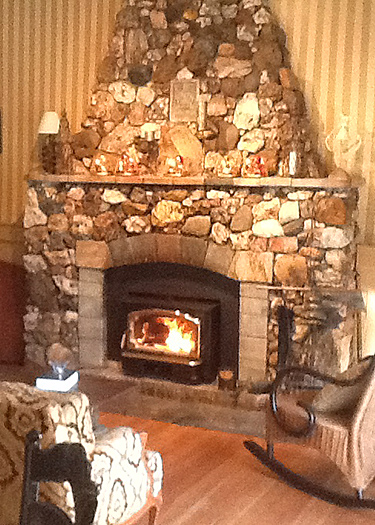 If your fireplace is a factory built unit, otherwise known as a zero-clearance fireplace, you must use an insert that is specifically designed and tested for the special requirements of your  fireplace. There are many sizes that will fit into existing fireplaces with few or no modifications, which has made wood inserts a wonderful option for homeowners that want to improve the look and performance of their fireplace without breaking their budget. Once you decide whether to use your hearth as room, living zone, or entire house heat source, Sierra Hearth & Home can help you determine the right insert for your home based on your climate, floor plan and lifestyle.
A wood burning fireplace insert will  produce just as much heat as a wood stove can, and the high-efficiency burn systems ensure maximum heat output from your wood. You'll be able to get more heat from less wood and can even use your insert to supplement your winter heating needs without increasing your current energy bills. One of the best benefits of wood inserts is that they can operate during power outages, when you need the heat the most. Choose an insert that mounts flush to the fireplace surround for a look that mimics a traditional fireplace. If you want extra radiant heat and a top surface you can cook on during power outages, choose an insert that extends onto the hearth. With faces made of steel, cast iron or stone, you can customize your insert to match your personal style.
Click on Any Logo Below to View Fireplace Insert Collections