Gas Burning Fireplace Inserts | Gas Inserts for Fireplaces
Customers from Jackson CA, Pioneer, Valley Springs, Ione, Amador City, Martell, Fiddletown, Wilseyville and all over Amador and Calaveras Counties travel to our full stock fireplace showroom to find the best selection of gas fireplace inserts.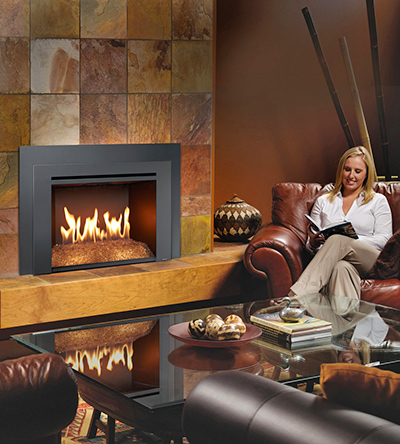 If you are looking to upgrade your old fireplace to make it more efficient, improve its appearance, and make it easier to use, then you should think about installing a gas fireplace insert. Like wood inserts, a gas insert is a steel box that slides into your existing, open-burning fireplace. Because the inserts are sealed, a reline system goes into your chimney to bring fresh air in to feed the fire and to vent the exhaust. With high-efficiency burners and circulating fans, gas inserts can heat anything from a bedroom to a Great Room.
You have a tremendous amount of flexibility when it comes to designing your new gas insert. Choose the best fit for your old fireplace, and the range of heat that will keep you warm. Then have fun with the rest! Do you want rustic or modern? A brick fire back or sleek enameled steel? A decorative cast iron face or a simple frame? Accent lights? A remote control? There are many options that let you customize your insert so it's exactly what you want.
Gas inserts are clean burning, easy to use and a very efficient source of heat. Available in natural gas or propane models, these inserts can be as much as 80% efficient. By putting the heat right where you need it, you're getting the best use of your heating dollars.
DID YOU KNOW?
Even when the power goes out, your gas insert will light and burn to keep you warm and cozy in the worst storm!
Gas inserts are also your best choice for keeping your home free of ash and residue. If you or someone in your family suffers from allergies or respiratory problems, then using a gas insert will stop their exposure not only to smoke but also to the molds and pollen that can be brought into your home on wood.
If you'd like to "set it and forget it", you can choose to hook your gas insert to a thermostat that will run it for you to keep the space at a comfortable, even temperature. Many manufacturers offer multi-function remote controls that allow you to easily control the height of the flames, the fan speed, and the temperature you want and also act as portable thermostats. Gas inserts begin to heat a room very quickly, taking the chill out of your room in no time.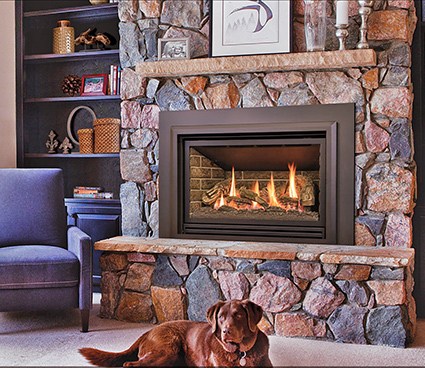 A professional installation by trained technicians is important for the safety and operation of your new gas fireplace insert. Because there are very specific requirements that must be met with any gas appliance, a professional is the best person to perform a proper installation. Our service and installation crew can make sure that you get the most enjoyment out of your gas insert.
Don't waste more money with your old, inefficient wood fireplace. Install a gas insert and warm up your home while saving money and all of the hassle associated with starting and maintaining a wood fire. Whether you are planning to heat one room or your entire home with your new gas insert, you will find a unit that will perfectly complement your home décor and meet your heating needs. If you are unsure of your specific requirements, one of our qualified hearth experts here at Sierra Hearth & Home will be glad to visit your house, take measurements, and offer advice and guidance for selecting the perfect gas insert.
Click on Any Logo Below to View Fireplace Insert Collections