Electric Fireplaces | Electric Stoves | Amantii Fireplaces
Our locally owned hearth store has a great selection of efficient electric fireplaces including units from Amantii, a top rated manufacturer of electric fireplaces and stoves. We serve Jackson CA and the surrounding towns and communities of Plymouth, Ione, Valley Springs, San Andreas, Pioneer, Amador City, Volcano, Acampo, and Amador and Calaveras Counties.
If you're looking for the warmth and cozy feel that a fireplace can give you but wood and gas aren't practical, then an electric fireplace or fireplace insert becomes a good option. If you have a small room or space that would benefit from the heat and ambiance of a fireplace but code or safety requirements would prohibit a traditional fireplace, opt for an electric fireplace! These incredibly convenient appliances require absolutely no maintenance, unlike wood, pellet, or gas fireplaces and venting systems that need annual cleaning and maintenance. These ultra-convenient heating appliances are perfect for homeowners who want to enjoy a fire without the hassle or leg work of burning wood.
Electric fireplaces are engineered with metal coils that are designed to heat up inside of the appliance when the heating unit is turned on. A fan installed in the unit works to circulate the warm air throughout your space quickly and effectively. The fan motor runs quietly and allows electric fireplaces to be a great option for zone heating. Electric fireplaces use LED or incandescent light bulbs to create life-like 3-D dancing flames. When combined with realistic logs sets that give the appearance of your favorite firewood and even glowing embers, you get the appearance of a real wood-burning fireplace. If you like a sleek modern look then a linear or vertical shape with a glass fire-bed may be just your style.
DID YOU KNOW?
Electric fireplaces can be enjoyed year-round since the electric "flame" can be run with or without the heater.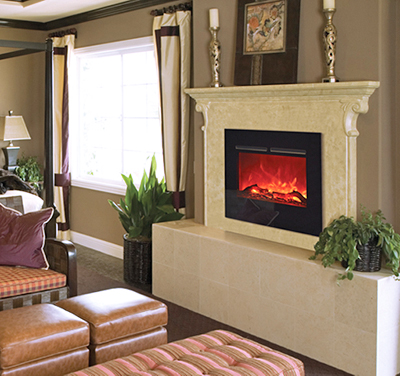 Electric fireplaces and inserts do not require venting, chimneys, or special construction for installation. This gives you tremendous flexibility in deciding on placement and the finished look. These heating units simply require electricity to run and can be installed near a power outlet or hardwired into the wall with professional installation. Because of this simplicity, electric fireplaces are an excellent option for renters or apartment and condo owners who want the look of a beautiful burning fireplace in their home. Ideal for bedrooms, offices and other intimate spaces, electric fireplaces are a great, economical way to enjoy dancing flames and cozy warmth. Installation is quick and painless. Simply take your new electric fireplace home, hang it on the wall or set it in your old fireplace and then plug it into a wall outlet. In no time at all you will be enjoying the appearance of flickering flames and the warmth it gives off.
Available with simple on/off switches or with remote controls that include a thermostat function, electric fireplaces are the peak of convenience. For only a few cents a day these electric fireplaces, inserts and stoves can add a new dimension to any room in your home along with some extra heat too. Stop by our showroom in Jackson, California and talk to our hearth experts here at Sierra Hearth & Home, and ask us about what option may fit your needs.