Custom Installation of Fireplace Inserts | Insert Installations
Our hearth experts offer full professional installation of all of wood, gas, and pellet fireplace inserts found in our store. We serve Jackson CA, and the surrounding towns and communities of Ione, Amador City, Angels Camp, Rail Road Flat, Volcano, River Pines, Pine Grove, Wilseyville, and all of Amador and Calaveras Counties.
Did you know that you can instantly turn your open burning, old fireplace into an efficient and easy-to-use heating powerhouse? Fireplace inserts are the perfect choice for many homeowners since they can fix a wide range of common problems, like drafty or smoky fireplaces, and they are an affordable alternative to rebuilding your entire hearth area. These incredible, efficient appliances come in a wide range of styles, sizes, and shapes, and are available in several fuel types such as wood, gas, pellet, and electric to ensure you get exactly what you want from your new fireplace.  Inserts are designed to be installed directly into most masonry and zero-clearance fireplaces and function much like a heating stove. A pipe is used to vent by-products of combustion out of the home and decorative panels are used to cover up the rest of the fireplace opening.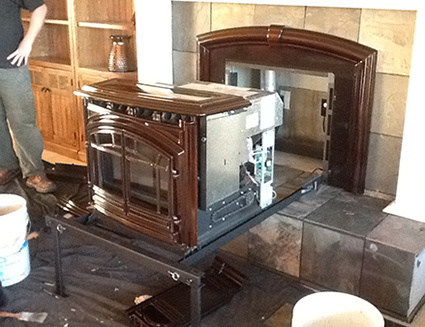 To ensure the safe and reliable installation of your fireplace insert, the HPBA-Hearth, Patio and Barbeque Association recommends that you use a specialty retailer and a NFI-National Fireplace Institute certified professional installer, such as Sierra Hearth & Home.
A professional installation will ensure that your new heating appliance will function safely and efficiently. Be sure to contact your local building officials to get a permit and information on any installation or inspection requirements for your new insert. Notify your insurance company as well.
All insert installations should start the same way – with a thorough cleaning and inspection of the old fireplace and chimney. With these first steps you won't have those stray whiffs of creosote on a cold day, any needed repairs to the old chimney liner can be done, and the installation will be much cleaner.
DID YOU KNOW?
Installation of your new fireplace insert will take less than a day!
For a gas insert you'll want to contact a licensed plumber to install a gas line into the fireplace. All pellet and most wood and gas inserts need an electrical connection for the available options. A power cord comes with your insert and can be plugged into the nearest outlet, or you may be able to have an electrician install an outlet into the old fireplace itself so the cord will be hidden.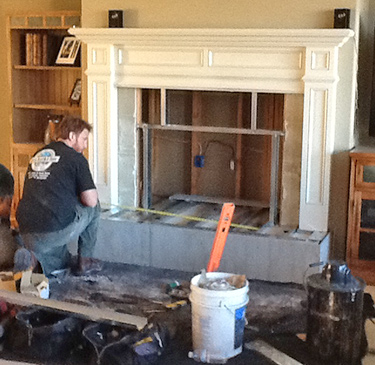 Once these steps are completed, it's simply a matter of running the new pipe in the chimney, putting the insert into the fireplace, hooking up the pipe and any gas or electric lines, and installing the finishing options. In the case of gas, our professional installers will carefully adjust the fireplace to ensure the best heat and the proper appearance of the flame. After the installation our installers will give you an explanation of the best way to use your insert and its basic maintenance. And we're always here to help if you ever have a question!
Give your fireplace a make-over! Whether it's gas, wood or pellet, a fireplace insert from Sierra Hearth & Home could be the perfect heating solution for your home. It will give the fireplace a whole new look that will add value to your house and put money from lower heating bills in your pocket!