Pellet Burning Stoves

Pellet stoves provide one of the highest heat outputs available. These extremely efficient, eco-friendly heating alternatives have been growing in popularity thanks to their innovative technology and modern conveniences. Get all of the benefits of a wood fueled fire with the clean-burning technology of a contemporary stove design. Highly heat efficient, these heating appliances can help you cut your heating bill while effectively providing a steady heat to even your largest spaces with ease.
The fuel, which is wood byproducts and scraps compressed into tiny pellets, has very little moisture which allows them to burn more completely, producing more heat and lower emissions. Not to mention, storing pellets is much easier and cleaner than firewood. An entire winter's supply of pellet fuel can generally be stored in a 6x6x6 area in your garage, shed, or basement. Make sure you always choose premium pellets since they produce less ash and generate considerably more heat than standard grade pellets.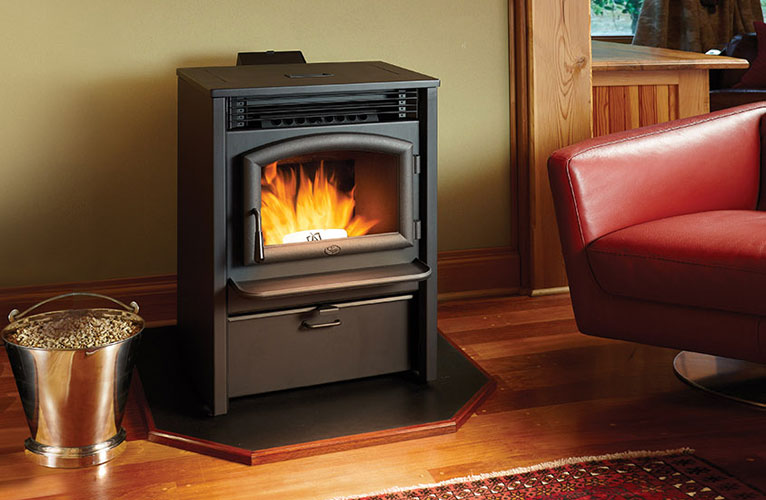 As the most efficient stoves on the market, pellet stoves have been helping homeowners supplement their current heating system so they can rely less on their energy company and enjoy more freedom. These easy-to-operate appliances are simple to start and run. Fill the storage bin (a.k.a. the Hopper) with the pellet fuel, select the heat output level on the thermostat, and enjoy hours of steady heat with minimal upkeep required. Many high power pellet stoves can operate for more than 24 hours at a time.
Stop by our fireplace and stove showroom to compare top pellet stove models side by side and speak with our hearth and heating experts to find out what pellet unit will meet your heating needs. Available in a range of styles, sizes, and finishes, you're sure to find a pellet stove that suits your tastes, home decor, and heating needs.
Click on Any Logo Below to View Stove Collections