Gas Burning Stoves | Gas Stoves | Top Rated Gas Heating Stoves
View our incredible selection of gas heating stoves in our fully stocked showroom in Jackson CA. We serve customers from all over Amador and Calaveras Counties, including Ione, Valley Springs, Fiddletown, Drytown, Herald, Volcano, Sutter Creek, Amador City, and more.
A gas stove is a stunning way to create a comfortable, cozy ambiance in an instant. Free-standing gas stoves are as functional as they are beautiful and these convenient, easy-to-use appliances come to life with the flick of a switch or push of a button. No more tending to high maintenance wood fires. Gas stoves let homeowners enjoy the realistic feel and warmth of a fire without the hassles associated with storing & tending to firewood.
Wood stoves have more installation and venting requirements, whereas a gas heating stove has flexible venting options and the ability to be vented without a masonry chimney in place. This allows them to be installed in spaces and rooms where a wood stove could not go. You can choose from a range of styles, including cast iron, steel, or soap stone, and in a variety of sizes and heat outputs to ensure that your new gas stove will meet all of your heating needs.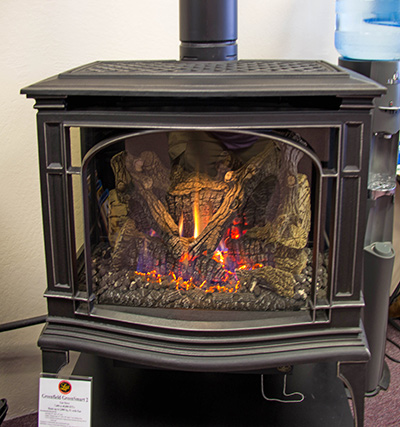 Choose between natural gas or liquid propane, depending on what is available to your home. You can further customize the look of your gas stove by selecting faux logs, river rock, fireglass, or other contemporary alternatives. You can also find a range of colors and enamels to further customize the appearance of your stove.
Gas stoves are a clean burning alternative to many heat sources. Modern technology and quality innovations have made gas stoves as efficient as they are beautiful. Zone heat the busiest spaces in your home without wasting money on heating rooms that are never used. Today's gas stove models can reach over 80% heat efficiency rating so you can heat rooms quickly and effectively. Enjoy a range of modern convenience like adjustable heat output, flame level, fan speed and more. Free-standing gas stoves are also extremely clean and require very little maintenance, making them a wonderful choice for busy homeowners.
Click on Any Logo Below to View Stove Collections