Custom Installation of Fireplaces | Fireplace Installation | Professional Fireplace Installs
Our professional fireplace experts provide quality fireplace installation services to the residents in Jackson CA, Ione, San Andreas, Wilseyville, Fiddletown, Martell, Angels Camp, Mokelumne Hill, West Point and all of Amador and Calaveras counties.
Whether you are building a new home or remodeling your favorite living space, a fireplace is an excellent feature to add. We install pre-fabricated wood burning and gas fireplaces. Turn to us when you need help selecting and installing a new fireplace that will become the centerpiece of your home. From the time you walk in the doors until the time you decide to light the last fire in your fireplace or fireplace insert, we are here to keep the process simple. We can help you find the perfect unit for your heating needs, then set up professional installation, and even schedule regular service or repairs as you need them in the future.
DID YOU KNOW?
The most common fireplace problems are difficult and expensive to correct after the fireplace is installed, so the installation design stage is critical to success.
When choosing a location for your new fireplace you'll want to consider the most effective placement for distributing heat as well as a spot that allows for good traffic flow and furniture placement. New manufactured fireplaces are designed to be installed with simple wood framing and non-combustible materials such as cement board so you have many more options when it comes to choosing a location and finishing materials. Both gas and wood burning fireplaces will need a certain amount of clearance to wood trims, mantels or paneling. You can use ceramic tiles, brick or stone to finish the space around the fireplace to enhance the overall look. Be sure to include the space needed for the hearth as you do your layout.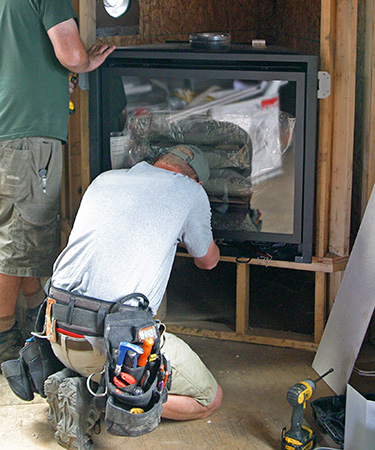 A properly installed wood-burning fireplace is a pleasure to use. It doesn't smoke when lit or spill cold air and odors when not in use, it doesn't backdraft when the kitchen fan is on, and it works well regardless of wind speed or direction. A specialized type of metal pipe acts as the chimney; this will be hidden behind the wall above the fireplace and can be surrounded by a chase outside the home. The chase can then be covered in stone or brick for a traditional look, or stucco or wood to match your home's exterior.
Gas units also need proper venting to ensure you get clean, efficient heat from your fireplace. Today's technology allows the installation of a gas fireplace into almost any area of the home that a gas line is available and a vent pipe can be installed. With our direct-vent fireplaces the piping can go out the wall directly in back of the unit or terminate vertically above the roof.