AQUASCAPE Pondless Waterfalls | Backyard Water Falls
As a Certified Aquascape Installer, we provide the sales and installation of pondless waterfalls and water features for residents in Jackson CA, Ione, Amador City, Angels Camp, Rail Road Flat, Volcano, River Pines, Pine Grove, Wilseyville, and all of Amador & Calaveras Counties.
If you love the sound of running water but just don't have the room for a pond, an Aquascape Pondless Waterfall is the perfect solution. Self-contained and fully recirculating, a Pondless waterfall can be customized to your space and designed for formal or natural-looking gardens. You can enjoy the sight and sound of running water with almost no maintenance while providing a haven for birds and butterflies. A Pondless waterfall is also a great first step if you think you'd like a water feature but aren't quite ready to commit to a pond. You can always add on later!
Pondless waterfalls use many of the same components and design features you find in a pond. Once the stream is laid out it's lined with heavy-duty 45 mil EPDM rubber to keep the water from draining away into the ground. A basin is constructed at the base and is also lined to hold the water and pump. For extra water storage in a smaller space you can use one or more AquaBlox, lightweight modular storage units that hold over 3 times more water than the same space filled with gravel will hold. A kink-free hose is run to the top and a waterfall spillway is installed. The spillway creates a smooth, consistent flow of water and takes up a minimum of space. No hill in your yard? No problem! You can build in enough height for your waterfall using concrete blocks and stacker stones. If a hole can't be dug for the basin because of rocks or existing hardscaping, the same method can be used.
Once the mechanics of the Pondless waterfall are installed it's time to decorate. The whole thing can be covered in rocks to create a rustic woodland stream. If you prefer a more stylized look, you can use clean-edged, modern materials in the stream bed. The storage basin is then filled with gravel to create "underground" water storage which keeps down algae growth and reduces evaporation.
DID YOU KNOW?
You can create multiple streams by connecting more than one spillway to the same pump.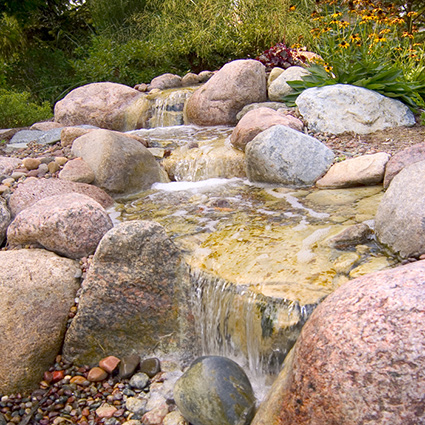 Sierra Hearth & Home is a Certified Aquascape Contractor. Let our pond master come out and help you design the perfect waterfall, one that will bring beauty and serenity to your garden. We can also install the Pondless waterfall for you. If you're a do-it-yourselfer, Sierra Hearth & Home offers several kits containing everything you need to get started on a steam from 3 to 26 feet long. You just provide the rocks and water. Put your favorite plants around the edges for a lush oasis, then sit back and enjoy the relaxing sound of your very own waterfall!