Maintenance & Repair of Water Features
Sierra Hearth & Home offers water feature & aqua garden maintenance, repair, and service to ensure a peaceful & well-balanced water system. Serving Jackson CA, Ione, Valley Springs, Volcano, Martell, Herald, Clements, River Pines, and all of Amador & Calaveras Counties.
 
Most water gardeners look to their ponds as a source of relaxation and escape, not a source of work and maintenance. Fortunately, a properly designed water feature is low-maintenance and works with Mother Nature, but on occasion it needs a little nurturing. Other than regular doses of beneficial bacteria to help keep the water clear, there are a few items of regular maintenance that you can expect.
Just like anything else you find in nature, a pond has different needs at different times of the year. It's very important for ponds to be cleaned out at least once a year.  The best time for this is early in the spring before the water temperature creeps up above 50°F. At this temperature, your pond hasn't begun its annual balance, and the fish are not as active so the clean-out won't be so stressful to them. The inclement weather of fall and winter inevitably will wreak havoc on a pond, dropping leaves and debris into it.  If these aren't cleaned out, the natural break down of this organic matter can cause poor water quality and become toxic for fish.
DID YOU KNOW?
Contrary to popular belief, fish actually reduce pond maintenance as they graze on string algae and bottom feed from the pond floor.
When the Sierra Hearth & Home pond service crew cleans a pond and waterfall, they catch your fish and put them in our holding tank, power wash everything from the top of the spillway to the bottom of the basin, and then shovel and vacuum out any sludge and sediment from the basin. They check your pump to make sure it's free of debris and working properly. Overgrown aquatic plants are trimmed back.  Your biological filter is cleaned and old filter media is replaced if necessary.  After they've thoroughly cleaned the pond, they will refill it and add a pond detoxifier and organic beneficial bacteria and carefully put your fish back in their pond.  Your pond will look like new when our crew is finished with it.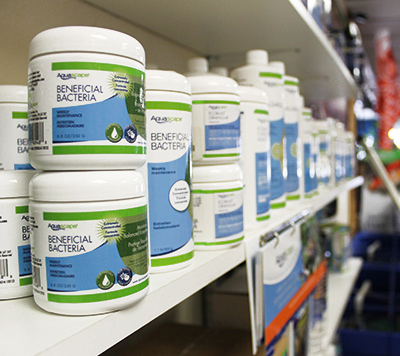 During the warm season you'll want to do a little basic upkeep. The debris basket and filter pads in the skimmer will need to be cleaned. How often this is required depends on the amount of debris and leaves that find their way into your pond. When the aquatic plants in your pond are actively growing you'll also need to keep an eye out for and remove any yellowing leaves and spent flowers. This is a normal part of any plant's seasonal growth cycle.
Regardless of whether you have a lot of trees or a minimal amount leaves falling, autumn is still a time when you'll need to empty the debris net or bag of your skimmer more often than you were in the summer - usually on a daily basis. It's also a great time to tend to your plants. Keep them trimmed as they die back. It's sad to see them go, but you definitely don't want their debris falling to the pond bottom.
If the idea of seasonal care is overwhelming, Sierra Hearth & Home also offers monthly and quarterly maintenance services for a truly care-free pond. A low-maintenance ecosystem pond provides you with more free time to enjoy friends and family . . . while gathered around your pond, of course! Sierra Hearth & Home is a Certified Aquascape Contractor so you know our cleaning and service department, specializing in pond and pondless waterfall cleaning, maintenance and repair, will treat your pond right.