AQUASCAPE Fountainscapes
Our experts can help you create a Fountainscapes water feature that will help enhance your outdoor living space, patio, or garden. We travel all over Amador & Calaveras Counties installing decorative water features, including Jackson CA, Ione, Plymouth, Wilseyville, Drytown, West Point, Sutter Creek, and more.
 
You can add the sights and sounds of water to your outdoor living area without the space or investment needed for a larger water feature. Fountainscapes and decorative water features give you a creative way to enhance your patio, garden or entry area with little to no construction. Compact and self-contained, you can choose from a variety of classical fountains, decorative urns, basins, spitters or natural basalt columns to fit your taste. Many of the water features come in a kit complete with a basin for the water and a pump. If you prefer to give your imagination free rein you can buy all the components individually and create something unique.
Fountainscapes are the perfect solution for small spaces. They are water-wise and energy efficient. Available in wide range of sizes and styles, they can be installed in just a couple of hours. You simply dig a hole and set the water basin, then level it and fill the surrounding space. Put the cover on the basin, attach the pump to the fountain and cover the top of the basin with decorative gravel, small cobbles or glass beads. Add water, plug the pump in and enjoy!
Spitters are great for adding a touch of whimsy to your garden. Made from high quality poly-resin, spitters are small statues of frogs, birds and other animals that – you guessed it – spit water to add a gentle splashing sound. Each comes with its own pump and can be used with any water feature.
DID YOU KNOW?
Water Features can be designed to fit into any décor from rustic to classical to modern.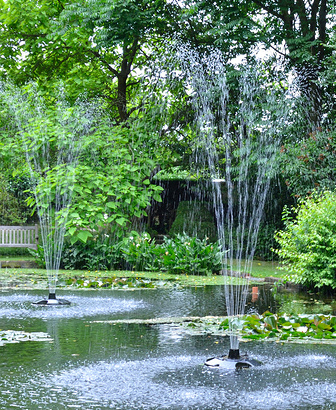 If you want to experience the beauty of a water garden but have limited space, why not put in an Aquatic Patio Pond? The basins are made of lightweight fiberglass that has all the beauty of natural rock and have integrated plant shelves. Add a small pump or spitter for aeration and sound, and plants for color and texture, and your miniature paradise is complete!
Fire Fountains offer a unique combination of bright fire surrounded by gently flowing water. This self-contained feature is a simple plug-and-play water fixture with a paraffin-burning fire feature in the center making it an ideal focal point or centerpiece to any outdoor setting.
Come to Sierra Hearth & Home and let us help design the perfect water feature to add to the beauty and serenity of your home.